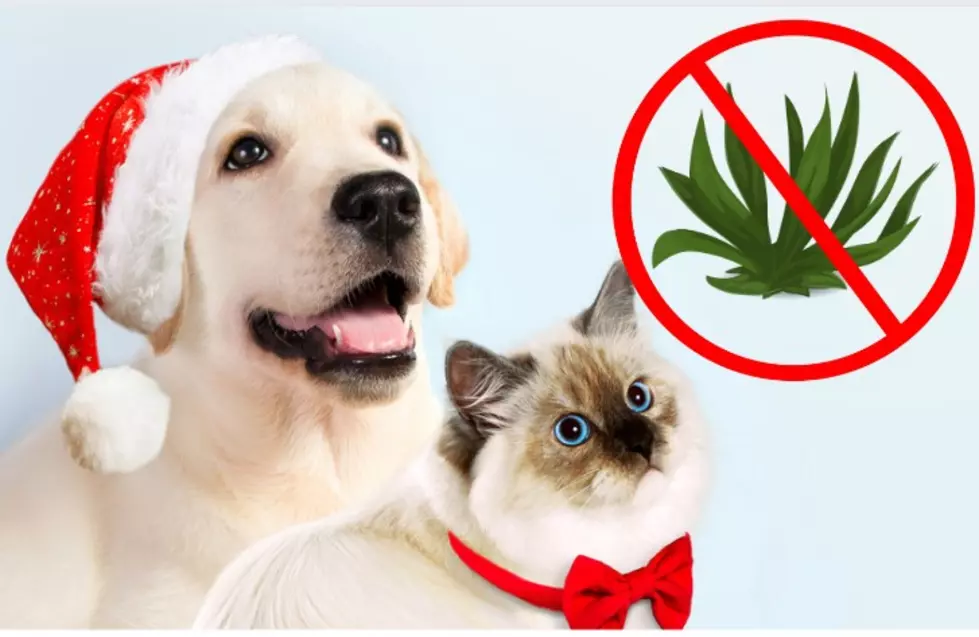 Keep Mr. Kitty And Your Diggity Dog Safe From These Plants This Holiday Season
Getty Images
Keep pets in mind when decorating and gifting this holiday season.  Some of the plants that make our season merry and bright can actually harm our pets.  From tummy troubles to a coma or even death, these are the plants to avoid if you have pets, or you're gifting a plant to a pet owner.
According to Newsweek, these are the plants to avoid:
1.  Christmas Tree  This one was news to me.  Be careful with your real tree and your pet.  The oil released by the tree can cause problems in their mouth and tummy.  If they happen to ingest needles, that can harm their stomach.
2.  Mistletoe  The plant we associate with a Christmas kiss can actually be the kiss of death for your pet.  It can cause everything from stomach problems and vomiting to low heart rate and lack of coordination in your pet depending on how much is ingested.  Some kinds of Mistletoe are just straight up poison and can kill your pet.
3.  Ivy If you're planning on decorating with Ivy, keep in mind it can cause skin irritation and tummy problems
4.  Holly If your pet eats Holly, your holiday won't be jolly at all.  Holly can cause mouth irritation, drooling, vomiting, diarrhea, and even a condition causing excessive head shaking.
5.  Lily  Every single thing, even the water it sits in, can harm your pet.  While it's not good for dogs, Lilies can cause major damage to your kitty, up to kidney failure, even if they eat the littlest bit or have a taste of the water.
6.  Poinsettia This popular Christmas plant has a sap that can cause nausea, vomiting, drooling, diarrhea, and irritation to the skin, mouth and esophagus.
7. Yew  It must be the pretty berries that make this outside plant an indoor gift for the holidays.  Not only is this plants poisonous to your pets, it's also poisonous to humans. It can cause stomach problems, vomiting, disorientation, even a drop in heart rate and blood pressure.
If you think your pet has been poisoned
Call the ASPCA animal poison control center at (888) 426-4435
Christmas Plants That Can Harm Your Pet
Christmas Plants That Can Harm Your Pet
9 Pictures of The Cutest Little Critter in Montana
This wild animal is known as the most adorable species in Yellowstone National Park.