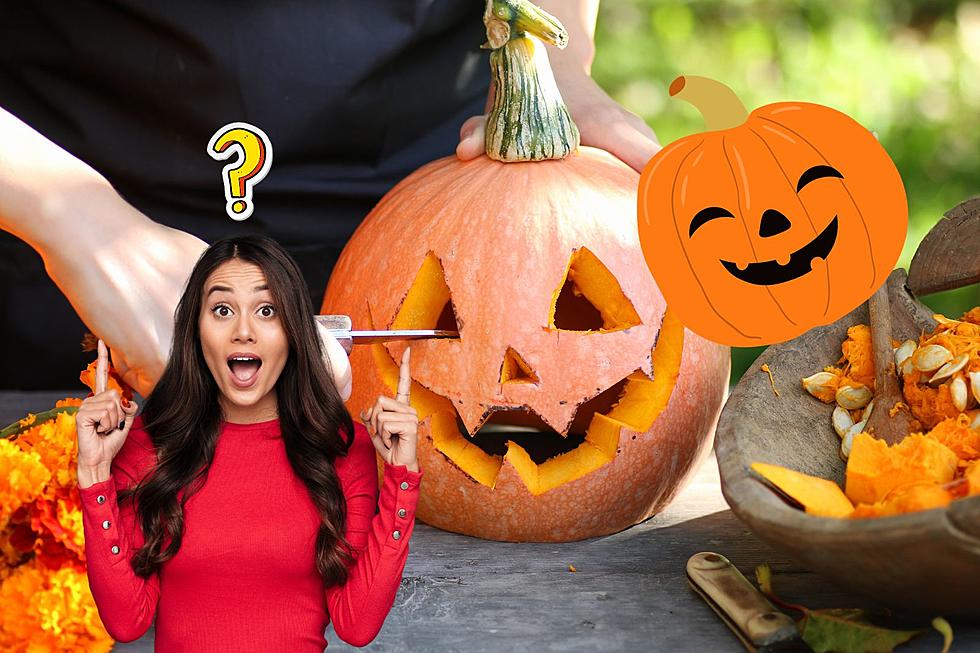 Is There A Better Way To Carve A Pumpkin For Halloween?
Canva
Grab your tools, we're pumpkin carving!
Pumpkin carving, autumn and Halloween obviously go hand in hand. Growing up, people usually carved the same type of jack-o-lantern for as long as anyone can remember.
Like so...

Over the last 15 years or so there has been new and innovative ways to carve pumpkins to make them look more realistic using templates and light carving the surface to make depth and detail.
Peoples faces, characters, words, etc have all come to life
This year I was discussing pumpkin carving with ambassador of holidays, my wife.
She told me that there is another way to open and clean a pumpkin to help with cleaning and preservation. I was made wise to the concept of cutting the BOTTOM of the pumpkin.
Doing some more research on the subject, according to Real Simple, along with ease of cleaning, there is some science to preserving your carved pumpkin to last until Halloween:
Do pumpkins last longer with the stem?

Yes, keeping the stem intact on your pumpkin will help it last longer since a pumpkin's stem is its source of nutrients. Try this pumpkin carving hack next time: Cut out the back or bottom instead of the top.
It's something that I've never thought of, but it makes total sense that the stem helps with the longevity of a carved pumpkin. I also think it looks a bit better aesthetically.
Do you carve from the bottom? Am I'm late to the game?
Show us your pumpkins on social media!
READ NEXT: What's The Most Odd Phobia Googled By Montanans?
Trail of 7000 Hand Carved Pumpkins is a Must See in New York
The Great Jack-o-Lantern Blaze is an electrifying event you must see this Fall.
Gallery Credit: Credit - Polly McAdams
Sunflower Days, Applestem Corn Maze and Pumpkin Patch, Craig Montana
Sunflower Days, Applestem Corn Maze, and Pumpkin Patch, Craig Montana
Gallery Credit: Tammie Toren