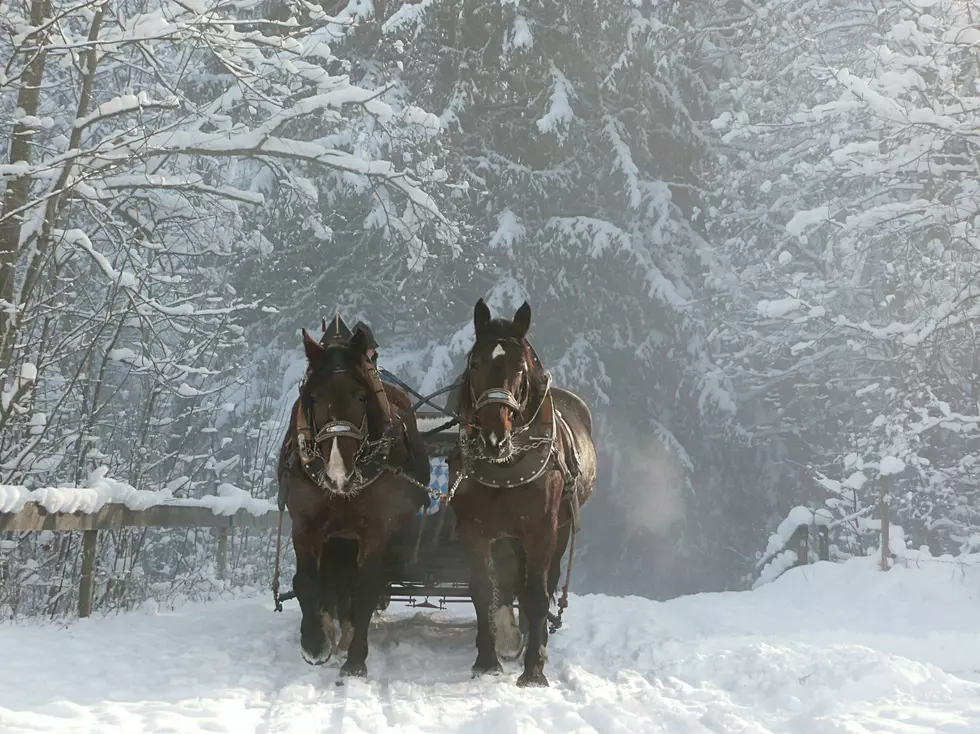 It's lovely weather for a sleigh ride together in Montana
eugen_z
What's more Christmas than a sleigh ride?  You see it in all the old movies.  The perfect Christmas sleigh ride with your new love pulled by a regal looking horse in a winter wonderland.  (Unless you're driven by Kramer from Seinfeld, but that's another story for another day.)
I didn't know that there were places for a sleigh ride in Montana.  And not just a couple of them either.  I should have known Montana offers this, but I'm not the person who chooses outdoor activities in sub zero temperatures.
I found 7, but there are more.  To make the cut, it had to be easy to find prices for the sleigh rides.  If you want to check out what they offer, hit the link on each description. There's a picture from each place following the descriptions.
Where to book your magical holiday sleigh ride in Montana
Cripple Creek Horse Ranch
Cripple Creek Horse Ranch is near Whitefish and offers a 45 minute sleigh ride with horses wearing jingle bells.  You can choose a dinner ride or a refreshment ride with prices starting at $225 for adults and $60 for kids.
Yankee Carriage Company
Yankee Carriage Company near Bozeman offers sleigh rides for up to 12 people, or a smaller sleigh that holds 4 people.  I'm not clear on the length of the ride.  Prices start at $300 for 1-6 people.
Little Grizzly Ranch
Little Grizzly Ranch near Helena offers genuine one horse open sleigh rides with hot chocolate and s'mores lasting about an hour.  Fits 4 adults or 6 children and prices start at $210.
Elkhorn Ranch
Elkhorn Ranch in Gallatin Gateway offers 30-45 minute sleigh rides then refreshments, appetizers, lunch or dinner, and dessert.  The sleigh holds up to 12 people.  Prices start at $1,350 per sleigh.  You read that right, but what an experience that you could divide 12 ways.
Sunrise Pack Station, LLC
Sunrise Pack Station near Bozeman, offers horse-drawn bobsled rides that last 1/2 an hour to one hour in either day or night, and some with refreshment packages. Prices start at $20 for adults and $15 for kids.
320 Guest Ranch
320 Guest Ranch in Big Sky offers hour-long sleigh rides.  Some packages include appetizers.  Prices start at $85 for adults and $55 for kids.
Lone Mountain Ranch
Lone Mountain Ranch in Big Sky offers horse drawn sleigh rides that take you to a cabin offering a family style Prime Rib dinner with Cowboy singer and storytellers.  Prices start at $150 per person.
LOOK: See what Christmas was like the year you were born