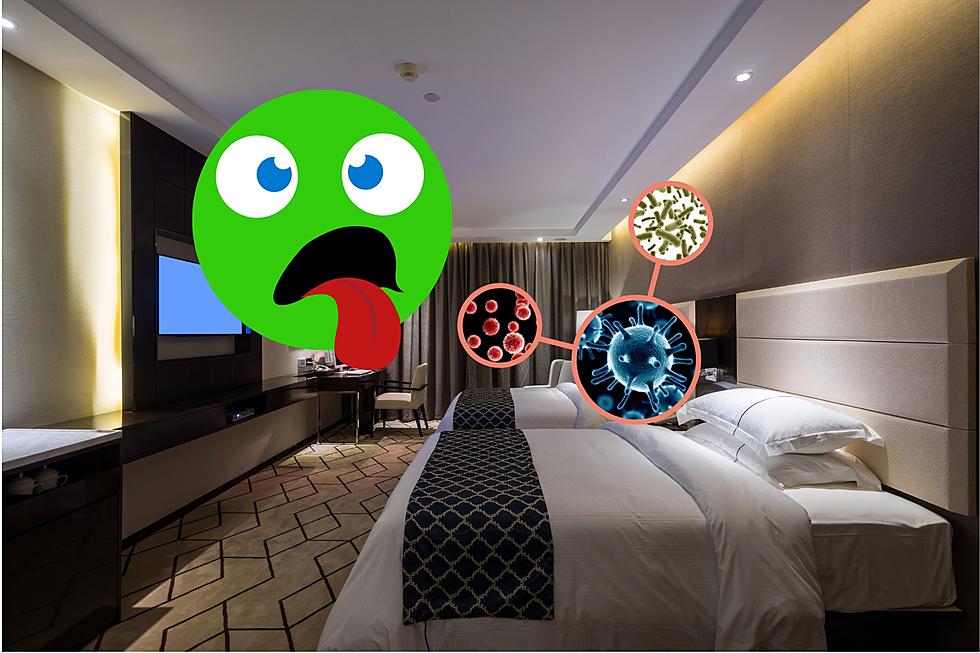 Just How Dirty IS Your Hotel Room? Watch For These Things
Canva
Just how clean is your hotel room?
I love staying in hotels.  Nothing says "I'm on vacation" like a hotel room.  But, the dirty truth is, there could have been hundreds of people in there with all of their personal people goo, before you.  It looks clean on the surface, but chances are, it's not.  really.  that.  clean.  Make no mistake, I'm not bashing housekeeping, this is just a reality.  A lot of times, a maid is only allowed around 15-30 minutes per room to clean.
What should you beware of in your home away from home?  Reader's Digest and Inc. have some suggestions.
Bathroom Counter, Faucet, Desk, Dresser and Nightstand Tops
Above, I mentioned that your housekeeper probably had a limited time to clean your room.  So, to save time, they may use the same rag to clean ALL the surfaces in your room from the toilet to the end table.  Ew.
Remote Control, Phone, Door Handle
Do I even need to go through the reasons why you need to sanitize the remote, the door handle and the phone?  If we learned anything in the pandemic, it's that hands are just dirty dirty dirty, and the phone is right by your mouth to boot. Ew.
The In-Room Coffee Maker
Believe it or not, they say just don't use them.  According to  researchers from the University of Valencia, they found bacteria in nine coffee machines that had only been used for a year.  Some sights actually said they've been known to have Meth residue as well as urine residue in them.  Ew.
Bathroom Glasses, Ice Bucket
Going back to housekeeping, they may not have the time to give these a really good scrubbing, so you're better off doing it yourself, or just not using them.  Another thing to note, evidently, ice buckets are used as puke buckets more than I'd care to consider. Ew.
Comforter, Pillows, Drapes
Keep in mind, most hotels only clean comforters every 3-6 months.  With a schedule like that for comforters, how long do you think it's been since they took down the drapes and had them cleaned?  Do you think the pillow is EVER washed?  Ew.  Best to bring your own pillow and blanket, or spray everything down.
Fabric Sofas and Chairs
Think about how hard these are to clean at home.  There's also plenty of bodily fluids on them that are invisible to the eye. Ew. Best to give them a good spray down.
Key Card
I never really thought about it until now, but think of the places that key card has been.  And, we can't forget how dirty hands are in general. Ew.
What's the moral to this story?
Bring a can of disinfectant.  Make it the first thing you pack.  If you're going on a plane, stop at a store and get a can even if you have to leave it there when you leave.  $5 buys a lot of peace of mind when it comes to this.
These Over The Top, Unbelievable Hotel Rooms Will Transport You to a New World
Get ready to be stunned and dazzled by these absolutely unforgettable hotel rooms at The Roxbury Motel and Roxbury Stratton Falls in the Catskills, NY.
Top 10 Hotel Room Hacks For When Traveling With Toddlers
Here are the best ways to survive your hotel stay with little kids!