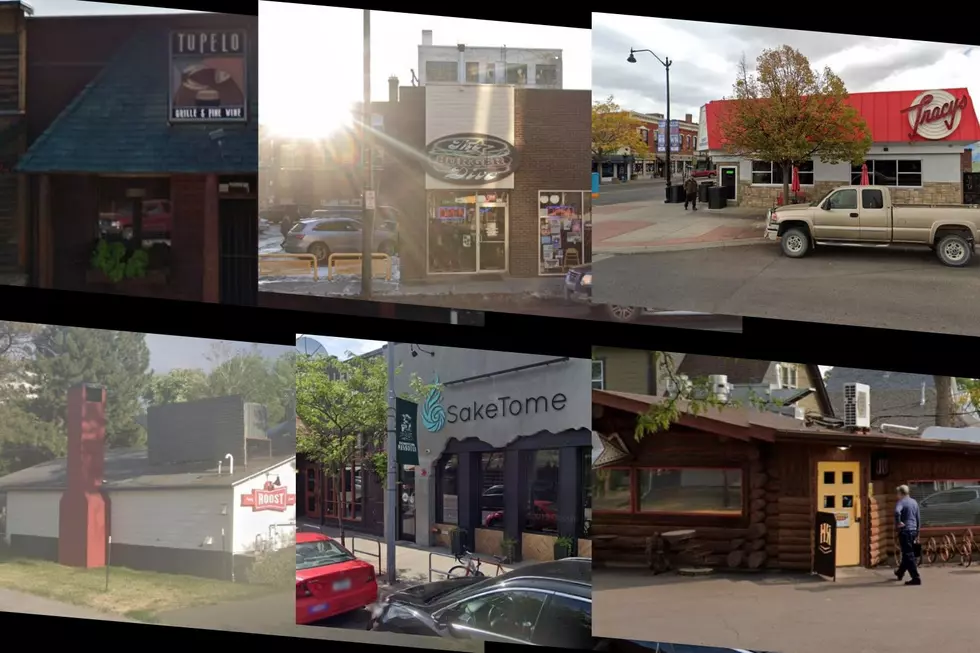 Food So Good You Could Die. Try These Montana Bucket List Restaurants
Canva//Google Maps
Montana has some great food, sometimes you just have to drive for it.
I took a look all over the state, looked at places like Discovering Montana, Money Inc., Top List, and Opentable, along with some personal experience, to compile a great list of the bucket-list worthy restaurants in Montana.
There's no way I could put them in order, so alphabetical it is.
Opentable rated them as the best Montana restaurant in 2021.  What's cool about that is it's an award based on diner reviews.  They believe what you eat matters and they locally source every ingredient possible.
They use seasonal ingredients to create award winning pizzas and biga starter for their dough and cooked in a brick oven, along with sandwiches and salads made with the same passion as their pizza.
Awarded Burger Champion at the World Food Championships in 2016 and they've been featured on Man V. Food.  I can tell you from personal experience you will rarely find a better burger than one from The Burger Dive.  I'd drive to Billings just to eat there.
Business Insider Magazine rated Lucca's as the best restaurant in Montana in 2015, 2016, and 2017.  I've been lucky enough to eat here a couple of times.  No matter where you live, it's worth the drive to Helena to try their cuisine.
Voted Best of Bozeman in the restaurant, dessert and service categories. Montana Ale Works not only takes pride in what they serve, but in where they get their ingredients; local farmers and ranchers, brewers and distillers and culinary craftsman.
Montana's first Brew Pub, in downtown Billings, "MBC" was voted best lunch in Billings six years in a row.  This is a great place to take the family for lunch or dinner, as well as a great place to meet friends.  I highly recommend them.
A great place to grab a drink with friends, or take in a nine course meal in their private cellar.  I love Plonk without ever going there because they call the union of food, wine, and music the holiest of trinities.
The Roadhouse Diner in Great Falls has been featured on The Food Network, Travel and Leisure Magazine and awarded a Top Ten Hidden Gems Award by Trip Advisor.  You'll go there for the burgers and leave raving about their unsurpassed service.  I can tell you from personal experiences, you'll enjoy one of the best burgers of your life from the Roadhouse.
Boasting Southern goodness in Bozeman, Montana.  Down Home. Darn Good.  They've been featured on Diner's Drive-Ins and Dives and have a write-up in the LA Times. Known locally for the excellent cuisine and unmatched service.
In Missoula, SakeTome is the go-to Sushi place.  Locals and visitors alike revel in their amazing fare.
Tracy's doesn't do any bragging at all on their website, so I'll do it for them.  You'll be hard-pressed to find a better breakfast, lunch or dinner in the entire state.  They have it all from biscuits and gravy and chicken fried steak, to amazing salads and sandwiches and even Prime Rib on Thursday and Friday nights.
"Warm, comfortable, mountain-West hospitality" right in the heart of Whitefish.  A more upscale menu with a mountain view to boot.  When you're in the Flathead Valley, make the short trip to the Tupelo Grille.
Uberbrew is "on a quest  for the superlative pint experience".  On Montana Avenue in Billings, it's a great place to meet friends for a drink or to bring the whole family for a fun dinner experience featuring upscale casual food.
Make sure you know these great restaurants when you see them.  Check out this gallery.
Best Restaurants In Montana
Best Restaurants In Montana
8 Exclusive Montana Events You Don't Want to Miss in 2023
Here are some unique Montana events that you don't want to miss in 2023