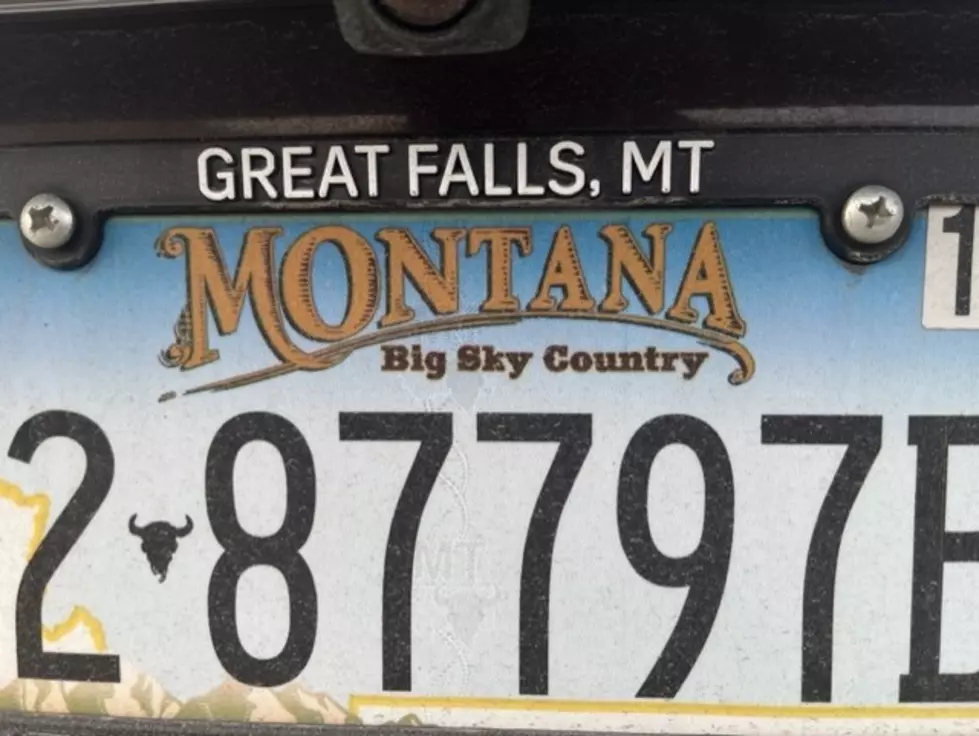 What Exactly Does The First Number Mean On A Montana License Plate?
Tammie Toren
Living in Montana my whole life, I've gotten pretty good at telling where someone is from in the state by looking at their rig.  You can generally tell by the first number on the plate you can tell they live in a certain county.
There is a method to this seemingly strange way Montana does their license plates.  I feel like I was taught it was by mineral wealth in the counties, but on doing research, THAT WAS INCORRECT.  Damn it, Mr. Johnson.  I'm half way glad my dad is gone right now or I'd owe that boy some money.  We had to memorize the counties and their seats and numbers in 7th or 8th grade in Choteau.
Turns the counties were numbered by the population.  The population count was from 1914, but the policy didn't go into effect until 1926.  They've stayed the same over the years, even though the populations don't exactly match the numbers any more.
Now that you know the history, I'll give you the numbers and the counties so you can play the Montana road trip game, "Where is that rig coming from?"
County Number-County Seat-County Name
1. Butte/Silverbow County
2. Great Falls/Cascade County
3. Billings/Yellowstone County
4. Missoula/Missoula County
5. Helena/Lewis and Clark County
6. Bozeman/Gallatin County
7. Kalispell/Flathead County
8. Lewistown/Fergus County
9. Broadus/Powder River County
10. Red Lodge/Carbon County
11.Malta/Phillips County
12. Havre/Hill County
13. Hamilton/Ravalli County
14. Miles City/Custer County
15. Polson/Lake County
16. Glendive/Dawson County
17. Wolf Point/Roosevelt County
18. Dillon/Beaverhead County
19. Fort Benton/Choteau County
20. Glascow/Valley County
21. Shelby/Toole County
22. Hardin/Big Horn County
23. Roundup/Musselshell County
24. Chinook/Blaine County
25. Virginia City/Madison County
26. Conrad/Pondera County
27. Sidney/Richland County
28. Deer Lodge/Powell County
29. Forsyth/Rosebud County
30. Anaconda/Deer Lodge County
31. Choteau/Teton County
32. Columbus/Stillwater County
33. Hysham/Treasure County
34. Plentywood/Sheridan County
35. Thompson Falls/Sanders County
36. Stanford/Judith Basin County
37. Scobey/Daniels County
38. Cutbank/Glacier County
39. Baker/Fallon County
40. Big Timber/Sweet Grass County
41. Circle/McCone County
42. Ekalaka/Carter County
43. Townsend/Broadwater County
44. Harlowton/Wheatland County
45. Terry/Prairie County
46. Philipsburg/Granite County
47. White Sulphur Springs/Meagher County
48. Chester/Liberty County
49. Livingston/Park County
50. Jordan/Garfield County
51. Boulder/Jefferson County
52. Wibaux/Wibaux County
53. Ryegate/Golden Valley
54. Superior/Mineral County
55. Winnett/Petroleum County
56. Libby/Lincoln County
12 Montana Dams
12 of my favorite Montana Dams