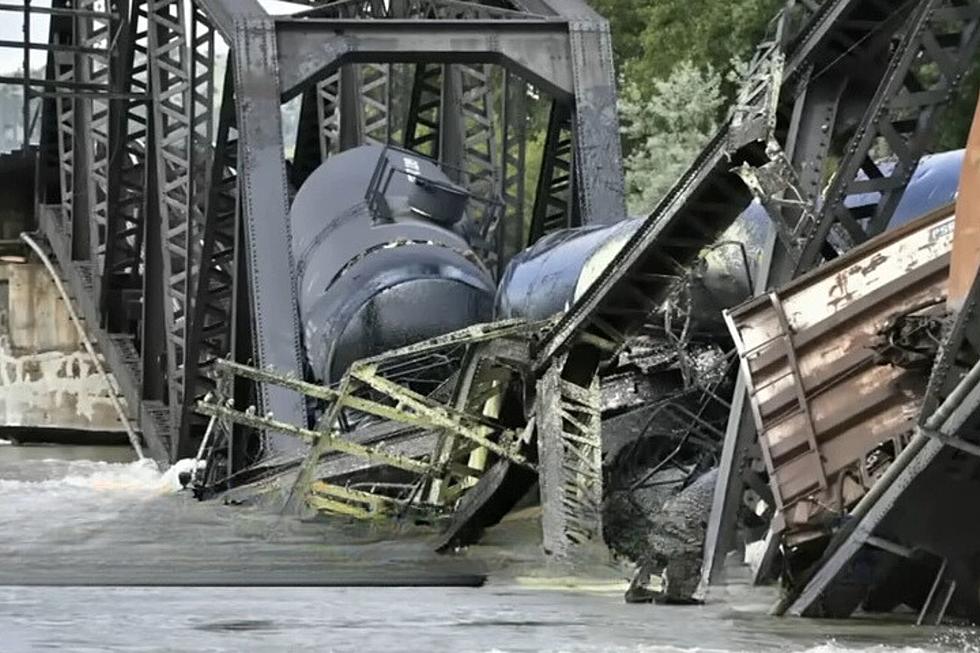 Train De-Rails In Eastern Montana Early Saturday Morning
Youtube//ABC News//Canva
Early Saturday morning, a train de-railed when a bridge collapsed over the Yellowstone River in Montana.
According to the Associated Press, after 6am Saturday morning, the train plunged into the river.  It was carrying hot asphalt and molten sulfur.  A yellow substance could be seen floating in the river soon after the wreck.
The bridge is just outside of Columbus, about 40 out of Billings in the Yellowstone River Valley.  The river floats away from Yellowstone Park.
In addition to the wreckage and spill, a fiber-optic cable was taken out that provides internet all over the state.
As a precaution, Yellowstone County asked residents to conserve water and instituted emergency measures at water treatment plants.  Columbus Water Users also shut off the river water into an irrigation ditch that flows downstream from the bridge to stop the water from reaching any nearby farmland.
The collapse of the bridge is also under investigation.  Experts say that the flooding in 2022 could be partly to blame by weakening the structure or foundation.  They are also looking into when the bridge was constructed and last inspected, maintained and repaired.  Experts also want to know the condition of the bridge in that there may have been rust in the components.
The chief of emergency services said there was no immediate danger to crews at the site and that the hot asphalt and molten sulfur were being diluted by the river.
Instagram Worthy Photo Locations in Billings
10 Iconic and Historic Restaurants in Billings
From still open to long gone, these ten restaurants have left an amazing mark on the Magic City.