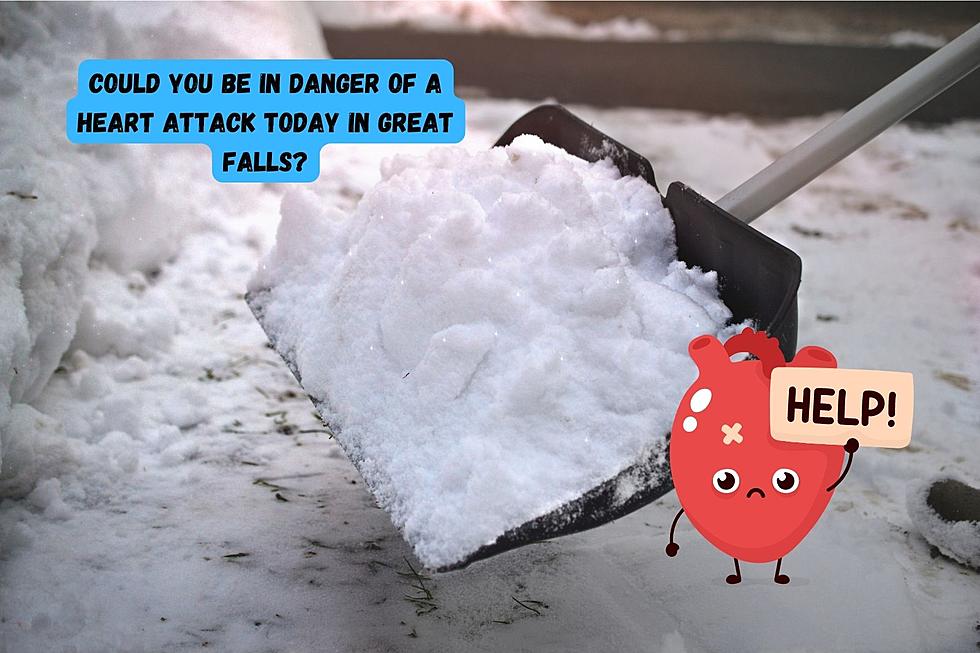 Are You In Danger Of Heart Attack Snow Today? What Is It?
Canva/JD Graphix
As you are heading out today to deal with Mother Nature and the mess that she has created for us less than a week from the official start of spring, take care and avoid the dangers of "heart attack" snow!  Yes, this really is a thing not just in climates that experience the lake effect of snowstorms, but also in Montana with these wet spring storms that can create havoc everywhere and with everything.
Know Your Code In Great Falls For Snow Shoveling - Read More Here!
So What Is Heart Attack Snow & Should I Be Worried?
As you do head out today to get rid of the white stuff, take heed as this is a wet and very heavy type this go around.  According to Healthline, yes in fact you can suffer a heart attack while shoveling.   The demands of the activity are equal to that of working out on a treadmill.  Another aspect of the article states that even operating your snowblower in certain conditions can also lead to heart problems.
Know The Symptoms & Heed Those Warning Signs from Your Body!
Healthline put together a quick reference guide to follow if you are concerned about heart attack snow.  The early warning signs of a heart attack can include:
mild or "stuttering" pain in the chest, neck, shoulders, left arm, or back
feeling to dizzy to stand
pain that radiates down one arm or the other
shortness of breath
In addition, the American Heart Association says that you should also be on the lookout for this more serious symptom:
intense chest pain, which may feel like a squeezing or tightness in your chest
One of the main things to remember is to work in moderation to not overexert yourself as you shovel.  The other notable fact from the article is that it really doesn't matter on your age.  If you are out of shape, haven't shoveled in years, you could be up to 56 more times likely to suffer a heart attack.  When it comes to shoveling, Healthline summed it up as follows:
Think less about age and more about your physical activity status before you get out there, shovel in hand. If you aren't engaging in regular physical activity, snow shoveling may be best left to someone who is.
Take care and keep those walks cleared everyone but be smart and safe about it!
How to Keep Your Pets Safe in the Snow
5 ways to keep your pet safe in the snow according to
mass.gov
.
Freezeout Lake Snow Geese Migration Montana
Freezeout Lake Snow Geese Migration Montana