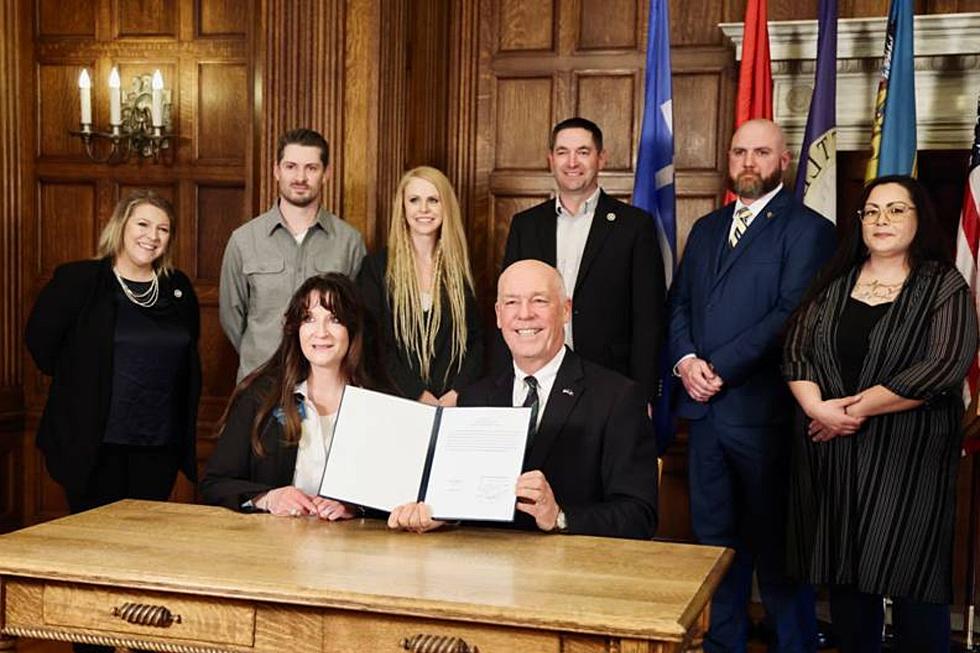 No One Has Ever Been Convicted of Human Trafficking in Montana
Credit: Office of the Governor
Missoula, MT (KGVO-AM News) - It's a shocking headline, but true.
At a press conference in Helena on Monday, Governor Greg Gianforte stated that 'no criminal has ever been convicted under Montana's present human trafficking laws'.
HB 112 puts Real Teeth in Montana's Human Trafficking Laws
Gianforte called together the state's Attorney General along with several law enforcement and legislative personnel to sign an important new bill, HB 112.
"Human trafficking is modern-day slavery," began Gianforte. "Traffickers who are often part of an organization of criminals exploit vulnerable Montanans for sex. These crimes are despicable. The criminals committing these crimes are depraved. Unfortunately, no,  and hear me on this; unfortunately, no criminal has ever been convicted under Montana's existing human trafficking laws."
AG Knudsen says Human Trafficking has increased by 1400 Percent in Montana
Attorney General Austin Knudsen took to the podium to provide the staggering statistics on the increase in human trafficking in Montana.
"Human trafficking is happening in Montana," said Knudsen. "The number of human trafficking cases tracked by the Montana Department of Justice increased from just seven in 2015 to over 100 in 2022, or over a 1,400 percent increase in that time. Today, as the governor said, we are sending a clear message to criminals across the country that we will not tolerate human trafficking in Montana."
Starting on Monday with the signing of HB 112, Knudsen said that human trafficking will become a part of the law prohibiting prostitution, and will criminalize several forms of human trafficking.
"The promotion of prostitution statute contains elements that are indicative of sex trafficking, but are easier to prove and carry a higher penalty than the previous versions of our human trafficking statutes; but that ends today," he said. "This new law the governor is about to sign adopts the promotion of prostitution statute into the human trafficking stats section of our code, and reorganizes the offenses into four easy to understand categories for prosecutors, and for investigators; they are sex trafficking, aggravated sex trafficking, child sex trafficking, and labor trafficking."
The New Law will provide Mandatory Minimum Sentences
Like federal crimes, Knudsen said the new human trafficking statutes will carry mandatory minimum sentences.
"It also increases punishment for offenders, both those that encourage or compel a victim to engage in commercial sex activity, and for those that patronize this heinous system," he said. "Not only are overall sentences increased, but the bill provides for mandatory minimums for the worst offenders. Additionally, this law makes it clear that those who patronize or encourage the sex trafficking of a minor will be held strictly liable for that conduct. Offenders who engage with the child in the context of sex trafficking will no longer be able to do so and then claim that they did not know the age of that child. Again, those days are done here in Montana."
Click here to see the entire press conference from Helena.
25 True Crime Locations: What Do They Look Like Today?
Below, find out where 25 of the most infamous crimes in history took place — and what the locations are used for today. (If they've been left standing.)
LOOK: States with the most people earning $1 million or more